Center for Large Landscape Conservation
CLLC promotes natural resiliency by answering to large landscape conservation's biggest challenges.
Grantee Profile
The Center for Large Landscape Conservation (CLLC) is the hub of a growing global movement to reverse the fragmentation of the earth's landscapes and restore nature's resilience to climate change. CLLC develops science, crafts policy, and supports planning for use by more than 2,000 community-based conservation efforts. Together with its partners, it forms a world-wide network of conservation professionals, scientists, and decision makers. Through its Corridors & Crossings approach, CLLC supports critical animal movement that shapes and maintains the landscapes in which they live. It uses science to help planners identify how and where animals move across a landscape—and how people impact that movement. Its knowledge is used to support on-the-ground action, from helping wildlife safely cross roads to identifying and protecting vital lands.
About Our Grants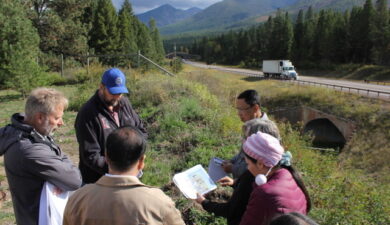 In 2021, the Woodcock Foundation awarded CLLC a one-year $80,000 grant to support its ARC Initiative, an interdisciplinary partnership working to facilitate new thinking, new methods, new materials, and new solutions for wildlife crossing structures. Additionally, in 2021 the Woodcock Foundation awarded CLLC a one-year $70,000 grant to support its work with the IUCN's Connectivity Conservation Specialist Group (CCSG), the Transport Working Group (TWG), and Green Crossings International (GCI). Additionally, this grant will support the role of Dr. Tony Clevenger in his leadership on GCI in Latin America.