ARC
ARC—Animal Road Crossing—is an interdisciplinary partnership working to facilitate new thinking, new methods, new materials, and new solutions for wildlife crossing structures.
Grantee Profile
Situated at the intersection of science and design, ARC works to ensure safe passage for humans and animals across roads, reconnecting landscapes and wildlife habitats, and helping to grow awareness that our roads interrupt habitats.Wildlife-vehicle collisions cost the US over $8 billion annually, and ARC works to educate a wide audience about the importance of wildlife crossings for the benefit of both people and the planet.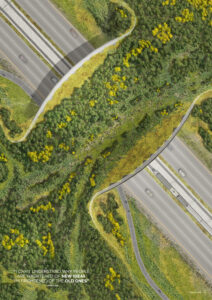 ARC advances the deployment of new wildlife crossing structures through partnerships with Department of Transportations, the National Park Service, other environmental agencies, and other key policymakers ARC also curates stories from scientists, engineers, and policymakers to spread awareness about wildlife crossing structures. Recently, ARC co-produced (Re)Connecting Wild: Restoring Safe Passage, a documentary showcasing the Nevada Department of Transportation's systematic approach to safety, which has resulted in 40,000+ successful animal crossings and the restoration of over 1.5 million acres of habitat for migratory mule deer. ARC advocates for human and animal coexistence and sees itself as a forum for collaboration and research.
About Our Grants:
In 2023, the Woodcock Foundation awarded ARC a one-year $150,000 grant, of which $100,000 is to support its central coordination capacity and $50,000 to support communications efforts.