FoodCorps
Recruiting young adults for a year-long term of public service in school food systems.
Grantee Profile
FoodCorps envisions a future in which every child—regardless of race, place, or class—is well nourished so they can grow up healthy and thrive. FoodCorps sees schools as a powerful locus for reversing the epidemic of preventable diet-related diseases plaguing our nation's youth. Its holistic, evidence-based program provides the guidance and resources—including trained, full time AmeriCorps service members—to shape school environments that enable and encourage healthy habits.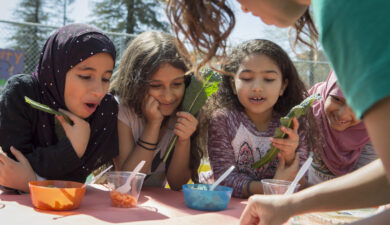 Today, FoodCorps is fostering change in 350 under-resourced schools, touching the lives of 160,000 students who rely on school meals for their daily nutrition. FoodCorps has helped hundreds of schools make meaningful, lasting changes, and driven measurable improvements in kids' attitudes toward health-protective fruits and vegetables. Building on its foundation of direct impact, it seeks to scale its reach and influence to the nationwide size of the problem: all of our nation's 100,000 public schools. FoodCorps is on an ambitious trajectory for program refinement and organizational growth through 2021, an evolution that will position FoodCorps to drive transformative change in our nation's schools. It is building an evidence base that will chart a scalable course—and make the case—for systems change; catalyzing careers of impact among the emerging leaders who serve through professional development and job creation; and shaping the $15 billion school food market that feeds our children, with the goal of influencing sweeping policy reforms that set up every child for a healthy future full of potential.
About Our Grants
In 2017, the Woodcock Foundation awarded a four-year, $400,000 grant to FoodCorps. This general operating grant supports FoodCorps' direct engagement in local communities via schools that enables it to connect American youth to a lifelong relationship with healthy food. In 2021, the Woodcock Foundation awarded an additional $10,000 grant to support internal capacity building efforts.