PHI – Quality Care through Quality Jobs
PHI is working to improve the quality of eldercare and disability services by improving the jobs of direct-care workers.
Grantee Profile
As the nation's leading authority on the direct care workforce, PHI promotes quality direct care jobs as the foundation for quality care. Drawing on nearly 30 years of experience working side-by-side with direct care workers and their clients in cities, suburbs, and small towns across America, PHI's trainers, researchers, and policy experts work together to: learn what works—and what doesn't—in meeting the needs of direct care workers and their clients, in a variety of long-term care settings; implement best practices through hands-on coaching, training, and consulting, to help long-term care providers deliver high-quality care; and support policymakers and advocates in crafting evidence-based policies to advance quality care.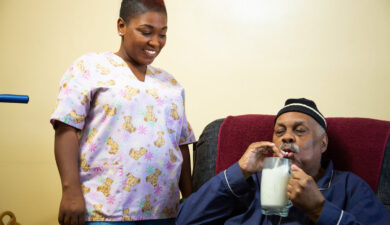 From February 2017 to December 2019, PHI launched and coordinated #60CaregiverIssues, a public education campaign that identified 60 ideas to help solve the growing workforce shortage in home care. The campaign released an array of reports, studies, and other resources on this topic, and it included a social media campaign that focused on new issues about every two weeks. In May 2018, the Academy for Interactive Visual Arts recognized PHI with a Communicator Award for this historic campaign.
About Our Grants
In 2018, the Woodcock Foundation awarded a three-year $500,000 grant to PHI for its efforts to improve the quality of jobs held by direct-care workers and the care provided to the elders and people living with disabilities they serve. In 2021, the Woodcock Foundation awarded an additional $10,000 grant to support PHI's capacity building efforts.