Beats, Rhymes, and Life
Beats, Rhymes, and Life is a community-based organization that grew in response to a critical need for therapeutic programs designed specifically to serve boys and young men of color who as a group demonstrate some of the greatest health and social disparities.
Grantee Profile
Beats, Rhymes, and Life (BRL) is a leader in the emerging field of hip hop therapy. BRL is committed to eliminating health disparities by partnering with youth and young adults to make mental health services more accessible and useful to diverse populations. BRL is the only non-profit in the country utilizing teams of trained clinicians, teaching artists, and peer mentors to deliver hip hop therapy in major urban settings. BRL also provides training and technical assistance to youth-serving individuals, organizations, and systems that want to ensure that all youth have access to quality and culturally relevant therapeutic care.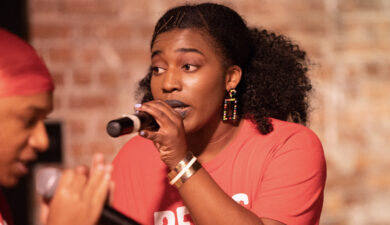 About Our Grants
In 2022, the Woodcock Foundation awarded a $25,000 grant to Beats. Rhymes, and Life to support efforts to cultivate dynamic, culturally responsive services through community engagement and the therapeutic power of hip hop, that inspire youth to recognize their own capacity for healing and self-expression. In 2022, the Foundation also awarded a $2,500 general operating grant in response to inflation.